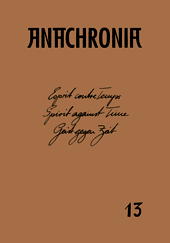 Numéro 13




Kallen, Eve-Marie / Editorial

Angyalosi, Gergely / "Imprégnation et évitement". La présence paradoxale de Heidegger en Hongrie dans les années 50 et 60

Sághy, Marianne / Heaven And Earth: The Madonna, Saint Gerard and Angevin Kingship. The Rediscovery of Medieval Paintings at the Shrine of Saint Gerard in Budapest

Recki, Birgit / Adornos Mozart. Die Barbarei des Kulturbetriebs: Adornos Kritik am Umgang mit Mozart

Schlegel, Hans-Joachim / Das blaue Irr-Licht. Das merkwürdige Zusammentreffen von Béla Balázs und Leni Riefenstahl

Losoncz, Mark / Šta li ce biti sa tobom, postjugoslovenski svete …? * Qu'est-ce que tu seras devenu, monde post-yougoslave …? * Was wird aus dir geworden sein, post-jugoslawische Welt …? * What will have become of you, post-Yugoslav world …?

Hrubec, Marek / The Struggle for Social Justice. On the Boundary between Nation-States and Supranational Arrangement

Gángó, Gábor / Das Märchen als Aufklärung, Kultur und Gewalt

Haefs, Gabriele / Über Ofelas-Nils Aslak Valkeapää

Driussi, Paolo / I would like to be a Linguist.



Février 2015
EUR 15.- plus frais d'envoi
commander